In the early days of Facebook, we were fine. We were between young people, we told each other everything without any shame, we were free. And then the old people arrived. Our dads, our moms, our uncles, our aunts, and even our grandparents. They came to squat our playground and post annoying stuff on our walls. Needless to say, old people on Facebook suck. But it is also a real spectacle; a mixture of unease and awkwardness that will never cease to make us laugh. Come on, old folks, we're ready to accept you if you let us laugh at you.
1. Find him his glasses please
_ Why are you screaming? This is the effect it gives when you write in capital letters. For your information, it's a bit aggressive.
_ BECAUSE I HAVE DIFFICULTIES IN READING, WHAT WOULD BE AGGRESSIVE WOULD BE TO TREATE YOU A BITCH.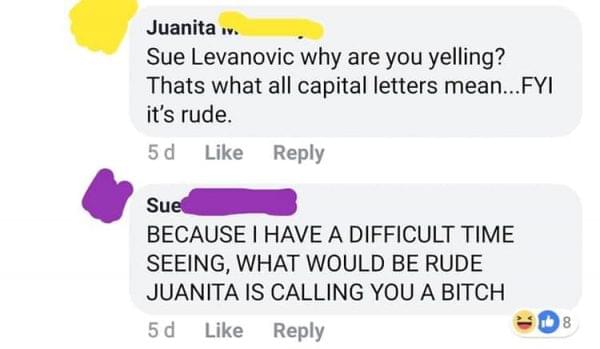 2. In your face the lunches
"Name something that pisses you off"
"People like you who can't speak without profanity"
3. Inappropriate reaction
" So sad. I have to apologize to friends and family. I accidentally clicked the laughing emoji instead of the sad one. I apologize for any pain I may have caused and send you my sincere condolences. »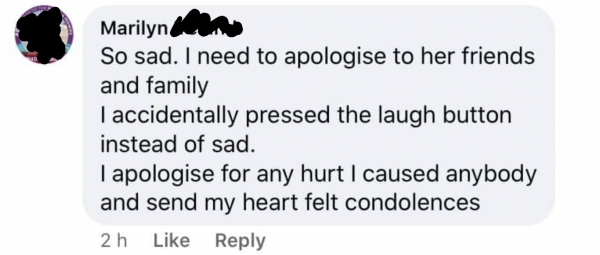 4. Someone teach him to leave a group
"I don't want any more pictures of people's Chihuahuas on my Facebook, enough is enough!!!! »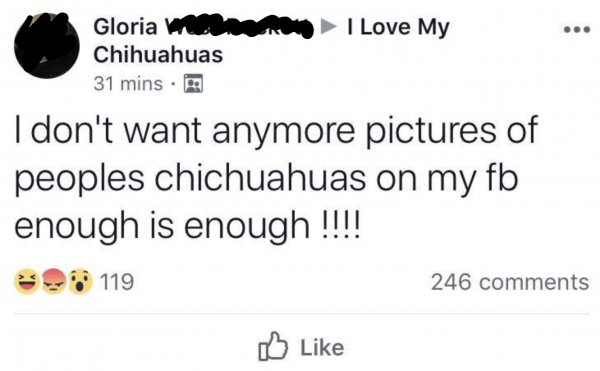 5. Autocorrection
Article: "What is that sharp, stabbing sensation you sometimes feel in your chest? »
Mark: "Vagina"
Mark : « Angine* »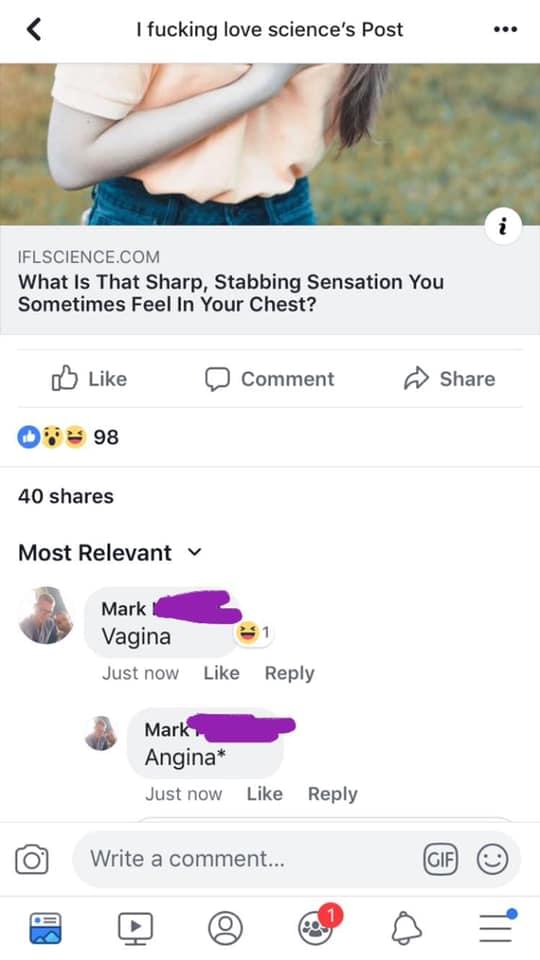 6. Mmmh okay Michel, very interesting
"I HAVE PLEASURE TO ANNOUNCE THAT I WILL NOT TRUST ANYONE ANY MORE"

7. It's private okay?
_ So excited to see season 3
_ What series Bill?
_ Respect my privacy please Kris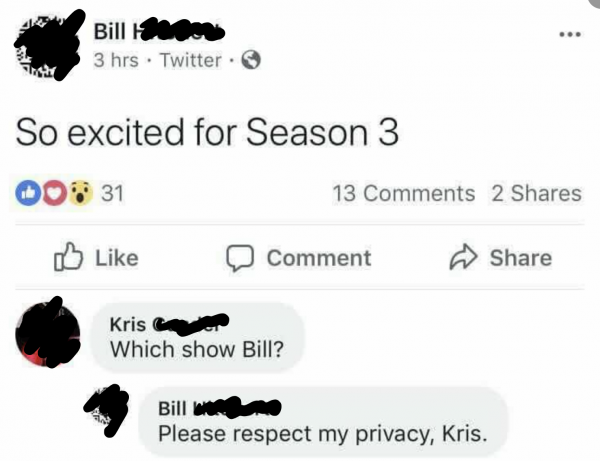 8. An opinion that will upset our society
"Dogs should never be off leash outside, it's stupid"

9. A moving testimony
Article: "Tattooed, severed and mummified Maori heads were once highly prized collector's items in Britain. We go to meet those whom New Zealand has commissioned to bring them home. »
Comment: "When we were teenagers, we took the bus and the train and went to the museum. Such beautiful memories… 10 cents for the train ticket… and then the museum…"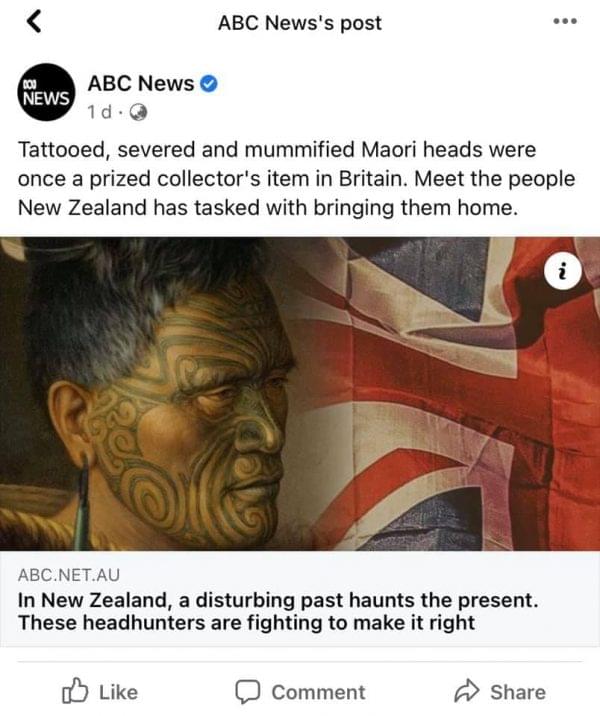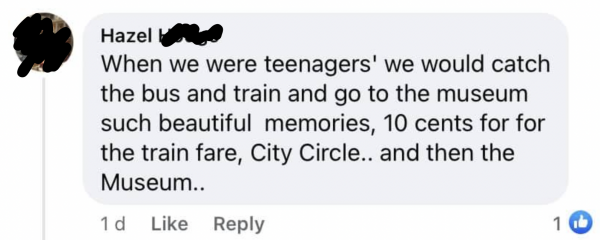 10. There's Work
_ Facebook, please put the Christmas pictures here
"Grandma, what are you talking about?
_ I try to put the Christmas photos on the facebook but it does not work
_LOL!! You were trying to control him like a robot?
_ It was your grandfather who told me to try this
11. It's nice to see………
"Amazing how much fun these kids are having, and not a single computer game in sight!!! »

12. OK IT'S COOL
"I ADOPTED A SENIOR MINIATURE DACHSHUND, I LOVE HER VERY MUCH. SHE WAS BEATEN IN HER FORMER FAMILY. I GOT HER AT 13 NOW SHE IS 15. SHE GETS BLIND, WALKS WEIRDLY AS IT AGES, SHE IS VERY SWEET AND LOVING SHE IS.. IT MAY NOT BE LONG UNTIL SHE IS GONE. I UNDERSTAND. SORRY SHE DIED, AT LEAST SHE HAD A LOT OF LOVE. IT IS IMPORTANT. GLAD YOU'RE STILL ADOPTING, THEY NEED MORE PEOPLE LIKE YOU.. THANK YOU. »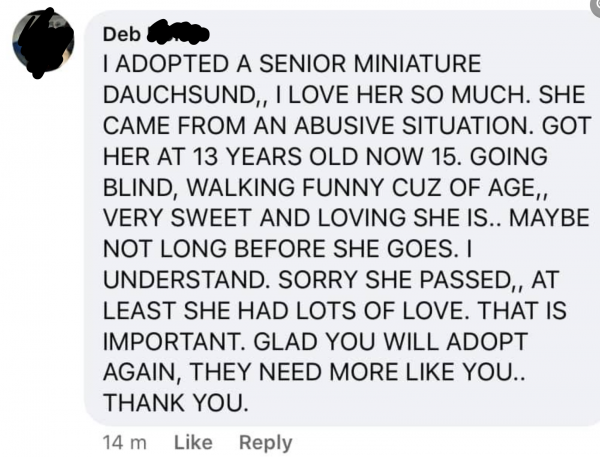 13. They are still cute these old people
Article: "The 250 Richest Australians"
Ken: "They're not as rich as us. We have no money but a loving and caring family. That's wealth. Ken and Barb Ryan. »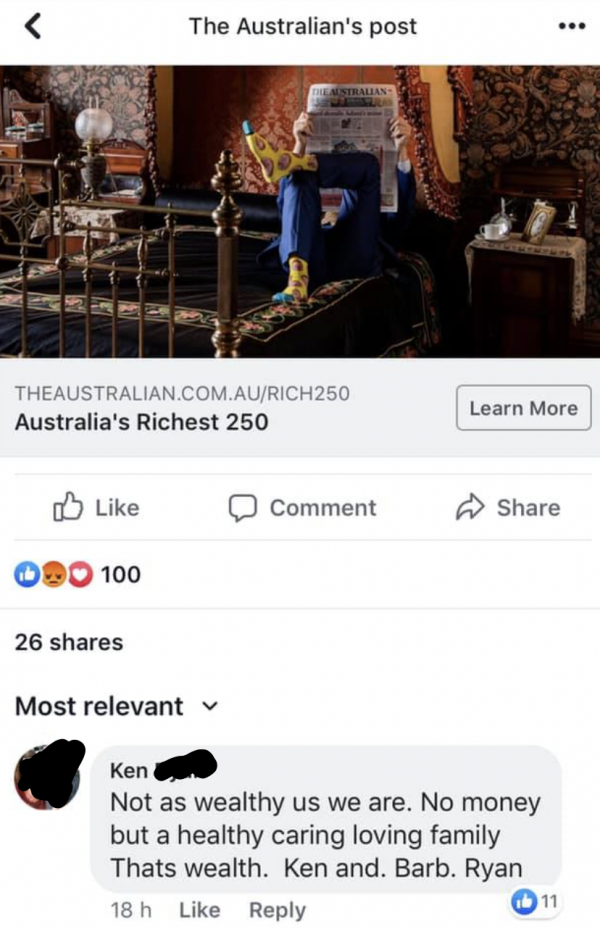 14. That's the problem with old people, they all become miros
"HELLO EVERYONE MY NAME IS MILLY… I USE CAPITALS TO SEE WHAT I WRITE BETTER… I DON'T SCREAM… MY LEFT EYE IS SO BAD… SO I JUST WANT YOU TO KNOW"
"HELLO MILLY WELCOME! »
15. Oops I didn't type that on purpose
"I hate thieves, having their hands cut off. Oops I thought out loud. I hope the police find your car. »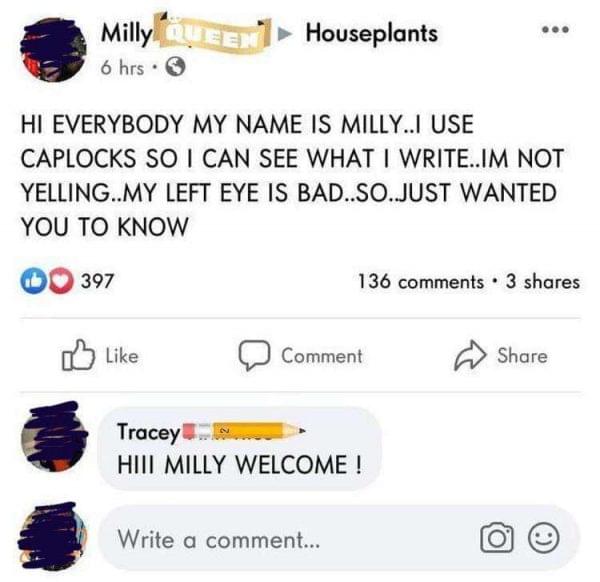 16. It's Too Far From Home