There are two categories of parents: those completely vaccinated by the first kid who put them in enough misery not to dive again. And then there are those who quickly forget and reoffend. We tell you, the perfect number is 3 and that's it!
1. Kinder Surprises are traditionally sold in sets of 3
Because by the time your only child learns to ration himself by not finishing the package at once, you will have suffered some indigestion vomit. As for dividing the 3rd egg in two, we don't mind, but for the surprise, it's going to be torn apart. We warn you, there will be blood on the walls. And chocolate too. But isn't it with small accidents that the best recipes are born?
2. There are 3 seats in the back of the car
So YES, the car with the kids can be hell, YES! But since it's already the case with one or two, the big advantage of occupying the 3 seats in the back is that it saves you from having to make incredible detours to bring all your friends home. (never respond to someone who says "did you come by car?"). And frankly that, it's one of the best jokers of parents to draw at will.
PS: while waiting for the 3rd, it works from two children with good big car seats that take up all the space.
3. The Freemasonic triangle has three poles
We don't know exactly what to do with this information because we're a little afraid of being recruited into a secret brotherhood by revealing too much, but we can't fight against the power of symbolism. The Catholic Trinity (in the name of the Father, the Son and the Holy Spirit), the ternary rhythm in literature and music, the 3-part plans at school (thesis, antithesis, synthesis), the rule of 3, you you don't even realize it anymore but you bathe in 3, you eat 3 and even that for our friends from the Grand-Est, you sleep in Troyes.
4. The best cakes come in multiples of 3
Yes then you will think that we are making a fix on the food but in terms of education it is still the basis. Let anyone who has never held up a cookie to buy their child's silence at the supermarket throw us the first Smarties!
And frankly, in the "learning while having fun" category, isn't it the coolest thing in the world to eat while studying the table of 3 (which is far from to be the worst multiplication table)? In this case: 3×4=12. If so, you can check! Well, we would like to say that the best educated siblings divide by 4 and reserve 3 Kango for the parent who served the snack, but that would be lying. What a bunch of jackals!
5. There are 3 primary colors
Obviously, we can't talk about the 3 primary colors without having an emotional thought for Bruno Vandelli, juror of the Popstar show in 2002. He's THE big misunderstood of the 2000s since his group name proposal unfortunately didn't hit the mark : « Quadricolor! There are 4 primary colors! Quadricolor! ". Would What For have had a better career if they had been called Quadricolor? We'll never know ! On the other hand, what we are sure of is that if you are a celebrity, we have just handed you on a silver platter three great first names to give to your children! Blue, Red and Yellow is so modern and it's not gendered! Kanye West and Kim Kardashian can go get dressed with their children North, Saint and Chicago!
6. They are the best siblings in cartoons.
There are obviously Babar's nephews: Pomme, Flore and Alexandre, those of Picsou: Huey, Fifi and Louie, but also the children in the Aristocats: Marie, Toulouse and Berlioz. Honestly, what more proof do you need? So, yes, you say to yourself that when we summon baby elephants, mini ducks with their hairy ass and cats to the rescue, it's that we may be a little out of argument… But if you count correctly , you'll see that we're barely halfway through this top so squeak the camembert box and first of all, don't tell us that you never dreamed of being a junior beaver?!!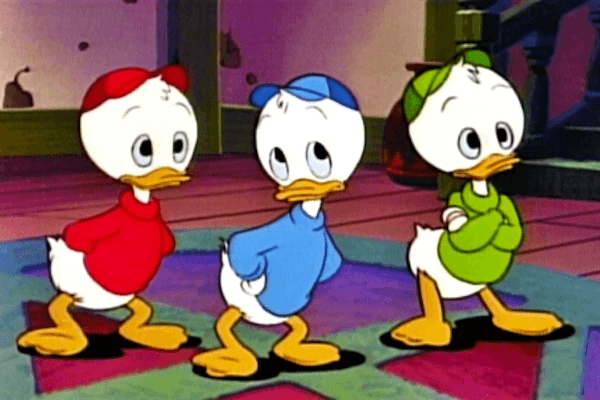 7. Without the 3rd little pig, the first 2 were in deep shit
No, but we can say it anyway! Luckily there was one last smart little sibling to build the brick house guys huh. No no, two children is too risky, otherwise we wouldn't have peace of mind the day they leave for their first summer camp in the forest, with these thousand billion wolves still prowling all over France… Ok, there are only 620 of them on all the territory but good*. As long as we don't have a 3rd child who can build a brick house, I tell you that we won't enroll our children in the summer camp!
* source
8. It allows you to create alliances among siblings
Two is zero, it's word against word. Three, straight away, that spice up the game a bit. So you will tell us, yes but, in this case, why stop on such a good path? Bah because after we find ourselves calling his youngest Kevin and taking the plane for the Christmas holidays forgetting the offspring. But luckily, Kevin is more resourceful than we would have thought, he protects the house from burglars and helps a bum to patch things up with his daughter… If "Mom, I missed the plane" is not the proof that the parents of the 90s were still seriously ill, we don't know what you need.
9. Apparently it's with the 3rd one that we stop stressing
Everyone says it: at the first child you stress to death about everything – "Noooo! your socks are mismatched, help, hello trauma! ", in the second you relax a little but it's not quite that yet –" Haha he has a pen in his hands, hohoho the rascal it's funny but now YOU ASK THIS IMMEDIATELY, OKAY?! » and then on the other hand the third one, you could see him stuffing a big dust bunny in his mouth that it wouldn't make you take off from your attempt to take a nap in the sofa. In fact, the third child gives you access to the wisdom of the Dalai Lama but without having to stuff yourself with a meditative retreat or fasting in the Himalayas.
10. It makes a nice musical trio
If with any luck you managed to have a boy and two girls with different voice timbres, that makes you a tenor, an alto and a soprano. Well, all three still have to sing in tune, but we're not going to give you all the work. And with a little autotune, it will go creamy.
11. The large family card is issued from 3 children
As long as you get pissed off having several children, you might as well scratch a few reductions along the way. SNCF, get ready, here we are… ready to drop off all these children with their grandparents for the whole of the holidays, wow! Long live the train! Yeah, that's how we are, we like to have the butter AND the money for the butter (and therefore leave the creamer alone, come on, otherwise we'll put a lawsuit on your ass).