Already, the right to vote for women in 1944, it's scary. Not because it's women who vote, huh, but because it's still really late in history, what. Finally, we got so used to this date that it hardly shocks us anymore. That's a shame. In reality, we've gotten so used to being bullied like that, that we don't realize that the evolution of our "rights" over time is freaking out.
1. When gender equality was enshrined in the Constitution, Monopoly had been around for 11 years (and maybe even longer)
It was in 1946 that equality between women and men was enshrined in the Preamble to the Constitution. From this date, we can read that "The law guarantees women, in all areas, rights equal to those of men. » (Between what we say and what we do, hahaha). As for the board game, we read everywhere that it was invented in 1935. In fact, its creation could even date back to the early 1900s, with "The Landlord's Game", patented in 1904. And you know what? Well, it's a woman, Elizabeth Magie, who invented it!
2. Credit cards were celebrating their 15th anniversary when women were allowed to open bank accounts.
The very first credit card was launched in 1950 by Diners Club. Initially, it only works in 27 New York restaurants. 3 years later, the Diners Club Great Britain is founded and the card is usable in restaurants, on an international scale. It was not until the 1960s that it became popular in Europe. For their part, women surely do not care a bit, since at that time in history, they do not have so many options for financial management. It was not until July 1965, with the reform of matrimonial regimes, that they had the right to open a bank account, manage their property and choose a profession without the consent of their husband. Just… Have a minimum of independence, what!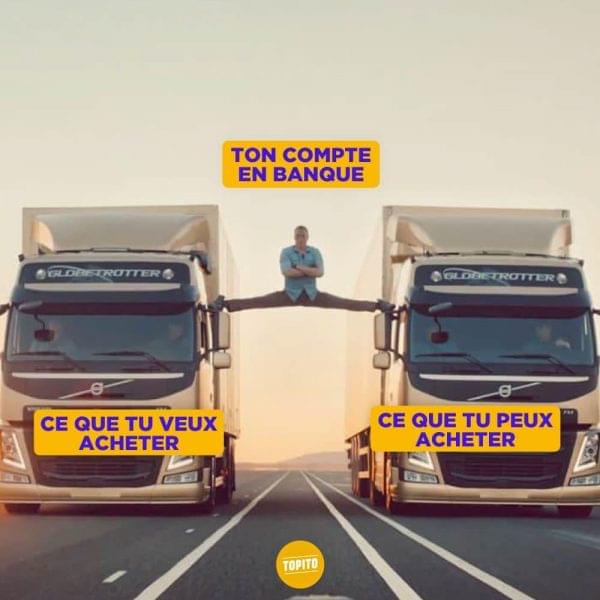 3. The Laughing Cow was almost half a century old when women had parental authority
The Laughing Cow was born in April 1921, in the Jura. The law relating to parental authority amended the civil code to change "paternal power" (which consecrated the authority of the father as head of the family) to parental authority in 1970. The text stipulates that "the two spouses together ensure the moral and material direction of the family".
4. When contraception became legal, we already had color TV
The first demonstrations of color televisions took place at the end of the 1940s, but it was necessary to wait a little longer before it returned to all homes. On a national scale, it was not until October 1967 that French broadcasts could be broadcast in color in homes equipped with suitable television sets. It was this same year that the Neuwirth law authorized contraception. The application decrees will only be published 4 years later, in 1971.
5. The first heart transplant took place 8 years before the law legalizing abortion in France
The first human heart transplant in history took place on December 3, 1967. It was performed by a team of South African doctors, led by surgeon Christiaan Barnard. Although the patient dies 18 days later, the operation opens the door to a practice that will save many lives. Medicine is advancing, but mentalities are slower to start. It will be necessary to wait until January 17, 1975 to put medical know-how at the service of women, by promulgating a law authorizing the voluntary termination of pregnancy, also called "Veil Law". Simone, our mother to all.
Note that even today, the countries that prohibit abortion or frame it (very) firmly are still counted in the dozens.
6. The first national women's rights day comes after Coluche's presidential candidacy
It was for the presidential elections of 1981 that Coluche presented (then withdrew, in the face of threats) his candidacy for the presidency of France. The first national day of women's rights took place on March 8, 1982. Even if some still did not understand the concept of this day dedicated to women, at the time, it represented a lot. That day, Mitterrand had received 450 women from different socio-professional backgrounds, and had announced several measures. Among them: the reimbursement of abortion by Social Security from September 1982; the launch of a bill on gender equality in employment; and the deletion of the notion of "head of family".
7. Professional equality was legislated two years after the abolition of the death penalty
And in this point, it is difficult to detect what is the most frightening, between a death penalty abolished only in 1981, and a very late egalitarian awareness. It was not until 1983 that we began to accept the idea that "no, it is perhaps not normal that women are paid less than men for a job that is identical in all respects". It was that year that the Roudy law established, on paper, this equality in the professional world, between the two sexes. I say "on paper", since almost 40 years later: women in France earn almost 16% less than men.
8. Electronic toll and marital rape recognition are the same age
Absurd ? Maybe. Shocking? Certainly ! The Court of Cassation only recognized rape between spouses for the first time in September 1990. Yes, 33 years ago, having non-consensual sexual intercourse with one's other half was not rape. Alalala, the beautiful values ​​of the sacred union.
9. We had already survived three waves of Covid-19 when PMA was extended to ALL women
On August 2, 2021, we had already had our noses in the global epidemic for almost a year and a half. August 2, 2021 is also the day when the bioethics law extended medically assisted reproduction to couples of women as well as to single women. For comparison, 35 years have passed between the title of JJ Goldman, "She had a baby on her own"and the ability to REALLY make a baby on your own.
10. "Gangnam style", "Papaoutai" and "Wrecking ball" were on all the radios when abortion became 100% reimbursed
It was in 2013. That year, we sway our hips to more or less rotten sounds, we reproduce the terrible chorea of ​​Gangnam style, we listen to the master Gim's in the first degree and above all… We no longer pay for an abortion. Certain medical contraceptives also become free for minors over the age of 15. Yeah, before Gangnam Style, we paid to have the right to make choices as important as motherhood.
11. Bonus: … And when we finally had the right to wear pants!
WHAT ??? Yes, until 2013, a law more than two centuries old prohibited women from wearing pants. In 1800, one could read in the French texts that "Any woman wishing to dress as a man must go to the Prefecture of Police to obtain permission". Niceeeee. In 1892 and 1909, this prohibition was partially lifted by circulars authorizing women to wear trousers. "if the woman holds the handlebars of a bicycle or the reins of a horse by the hand". Normal, what. Of course, even though it hadn't officially been repealed until 2013, no one cared about the ban anymore.